It has been decades ago that Central and Eastern European (CEE) region became a renowned player on the global IT outsourcing market. Companies from the North America and Western Europe are getting more interested in partnering with software providers from this part of the world as cultural and business traditions here are more compatible to their own. These and many other advantages of CEE region over India and China provoked boost of interest to the concept of "nearshoring".
In 2008 IT services export of Russia, Ukraine and Belarus combined counted in 2,2 billion dollars – 1,5 times more than that of China.
There are over a dozen of countries in CEE region that can be called relatively active players of IT outsourcing services market. And while research companies provide evidences of the rapid development of the market in general, let's have a precise look at positions of Belarus on outsourcing arena.
Market Volume
The research "Central and Eastern Europe IT Outsourcing Review 2008", conducted by the Central and Eastern European Outsourcing Association (CEEOA) during January to July 2009, ranks Belarus the 5th in the region by market value. This indicator was based on the scope of final IT products released in the country. At the moment the estimated Belarusian IT industry volume is 310 million dollars, 22 million over the 2007 rate.
The 8 per cent growth may seem not so impressive compared to the 30-40 per cent progress demonstrated in the recent years. However in the times of economic recession it's a decent result that allowed Belarus to improve its positions in the CEE rating.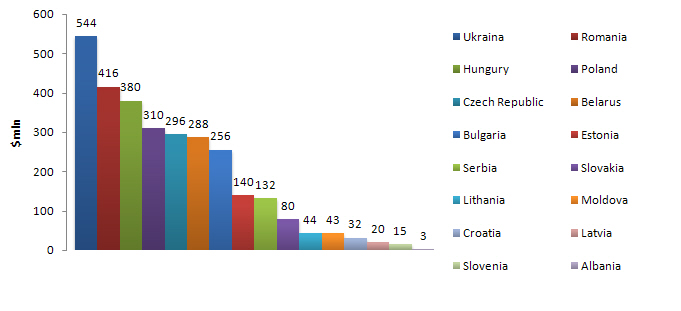 Market Volume 2007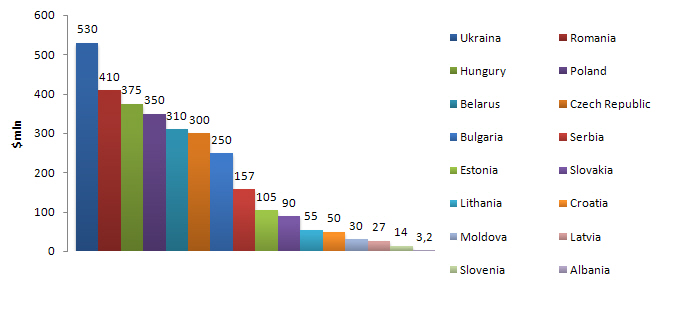 Market Volume 2008
By the way,
according to the Forbes Magazine
, per capita income from of IT-services export in Belarus equals that of India and outscores other popular outsourcing locations from CEE. "The volume of offshore programming services in Belarus in per-capita equivalent exceeds twofold that of Russia and threefold that of Ukraine", – the competent business edition says.
Number of Professionals
By the number of professionals Belarus is ranked 3rd in the CEE region – 10 000 people in the country work in IT sector. This figure covers only specialists involved in software outsourcing, not administrative personnel. Taking into account that population of Belarus is less than 10 million and having made simple calculations it's easy to notice that every 1000-th country inhabitant is an IT professional. In the times of the former Soviet Union Belarus was country's innovation, technology and engineering hub. And till now it retains and reinforces its positions being world famous for the quality of education in software engineering.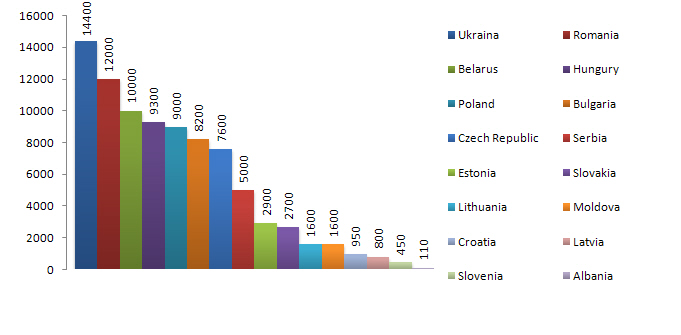 Number of Professionals
Number of companies
The Central and Eastern European Outsourcing Association has ranked Belarus 3rd by the number of companies, reporting the number 510. According to an earlier research conducted by the Russian Software Developers Association (RUSSOFT) and Belarus Hi-Tech Park, this number is 650. However some independent experts assume that this figure is exaggerated. At least no one has ever seen half of a thousand software providers in the country, not even in business catalogs listing. Anyway, companies looking to outsource to Belarus have a wide choice of highly professional end experienced teams. And quality here is definitely of a greater importance than quantity.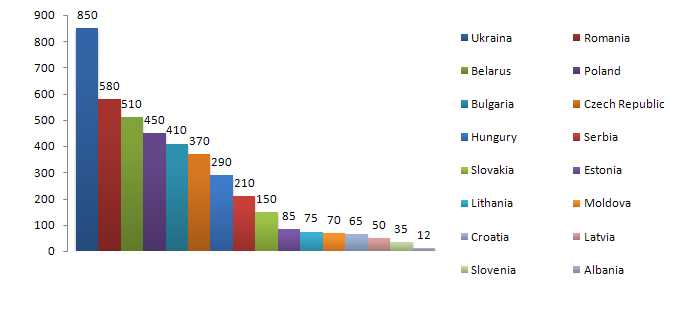 Number of Companies
Perspectives
"Central and Eastern Europe IT Outsourcing Review 2008″ has proved that despite of recession and instability, Belarusian IT market manages to grow, progress and improve its positions in the region.
And "Gartner's 30 Leading Locations for Offshore Services" research gives optimistic forecast for Belarus positions on global outsourcing market. Not yet included in TOP-30, Belarus was named among the fast growing countries that have all chances to join the leaders in the foreseen future.
Please, do not hesitate to contact us if you have any questions, or would like to get any clarifications or consulting.