Need perform bulk prices update? Just insert values in product grid and let Mass Prices Updater do the rest!
Perfectly simple tool with advanced search line, enhanced filtering (by multiple Categories and SKU's),
in-grid prices editor and one-page bulk-update feature saves up to 95% time you spend on price management.
http://www.iksanika.com/products/mass_prices_updater.html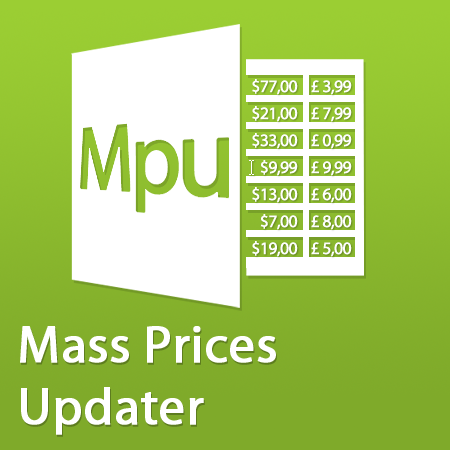 Make bulk products prices update at current time on a single page and forget about annoying manual work and calculations.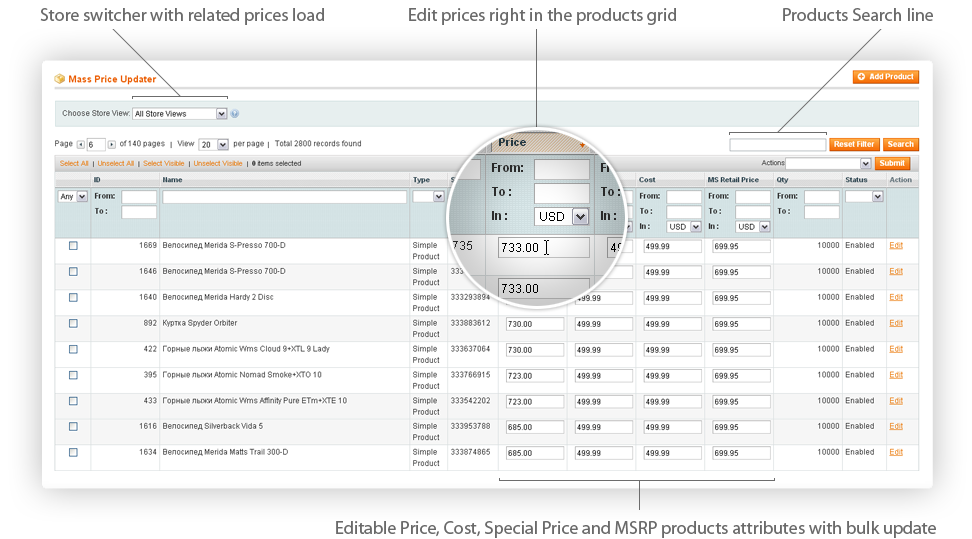 The idea of prices update makes you tremble, and sales season or supplier's notifications about new prices turn your life into hell? No wonder if you're using a standard Magento merchandise tool. Having dozens of thousands goods in stock you can spend long weeks on manual price update. Meanwhile you can install Mass Prices Updater and do it in a couple of minutes!
Mass Prices Updater is a comprehensive tool to help easily edit prices for multiple products on a single page. It takes a few clicks to update prices throughout the store. You can:

Edit prices right in product grid
Edit prices right in product grid, just like in Microsoft Excel. Mass Prices Updater improves product grid by adding Price, Special Price, Cost, MSRP columns. All you need is set a price for each item on the grid and click Save once. Done!

Perform mass actions
Perform mass actions which apply the same rules updates for a list of products, such as Modify Price based on Cost, Modify Special Price based on Price/Cost.

Forget about mind-breaking calculations.
Just insert the value (e.g. +/-/* 10%) and let Mass Prices Updater do the hard job for you. The extension supports both absolute and relevant values and all types of prices. Relevant values let you increase/decrease price by absolute amount (e.g. +10) or in percent (e.g. -10%) without doing calculations manually.

Easily search for required products.
You can use general search line or filter/sort products my related categories.
Doing successful online business today is all about flexibility and change. Download Mass Prices Updater extension now, and let your prices work for you, not you work on them!