One Step Checkout simplify the checkout process of your Magento store from 6 steps to 1.
Flexibility of the extension allows you to ease and speed up checkout process in your store across all devices and
push up shopping cart conversion rate to as much as 99% with up to 60% sales increase.
http://www.iksanika.com/products/one_step_checkout.html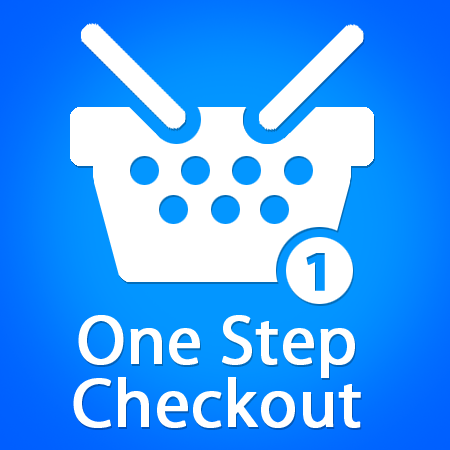 In Magento online stores, the default checkout process is extremely frustrating, and is one thing that takes the fun out of buying things. If checking out seems too much like work, chances are your customers will not want to return again or leave checkout without completing. The Magento One Step Checkout process eliminates this frustration to provide for a better shopping experience for everyone who visits your Magento store.
Online shopping cart activities could push up conversion rates to 99% through a lower abandoning of the cart at your Magento store. There is a great difference when One Step Checkout is applied to simplify the checkout process from 6 steps to 1, which eases and enhances the online shopping experience for your customer. All 6 checkout steps appear on one page, that allows your customers to modify any step at once. You can add/remove all unnecessary fields to simplify checkout page. Optimized, simpler and faster online processing is experienced to encourage more online sales at your store with a push up shopping cart conversion rate to as much as 99% with a 60 % sales increase.
One Step Checkout allows you customize checkout page by add/remove standard checkout input fields or add/remove custom checkout input fields. With One Step Checkout magento extension you can:

All in one Checkout Page
With One Step Checkout extension your customers can see and fill all checkout data on one page. They don't need to follow complicated standard Magento 6 steps checkout process.

One Step Checkout is Ajax based
One Step Checkout automatically update information based on customers input data via Ajax — such as: payment methods and costs, shipping information and costs and others.

Customize input fields
One Step Checkout allows you to manage checkout input fields, so you can show and hide necessary and unnecessary input fields. So your customers can concentrate only on most important data.

Payments Methods
One Step Checkout extension supports all standard and custom added Magento payments methods, which follows Magento API and development standards. Extension loads it automatically based on Magento configuration. So extension can work in any Magento stores and in any countries. One Step Checkout allows you to select default payment method.

Shipping Methods
Our Magento extension supports all shipping methods, which follow Magento API and Magento development standard. It automatically loads all shipping methods based on Magento settings. Extension allows you to select default shipping method.

Coupon, Comment, Newsletter, Gift Message
With One Step Checkout your customers can apply or decline coupon code, as well as add comments to their order with some details or instructions for delivery. They can specify gift message for order, as well as sign for newsletters of your Magento store. All of it your customers can do on one checkout page.

Gift Wrap
As already know One Step Checkout allows your customers to add gift message, but additionally to this option your customers can also add wrapping products right on One Step Checkout page. Extension will automatically update grant total with Gift Wrapping cost.

Polls
You may be interesting about how customers hear about your store, or how to improve your store, or what customers would like to see in your store - with Poll feature of One Step Checkout Magento extension you can ask any questions and add any options as potential answer. Extension will show this answers as part of order.

Terms & Conditions
With One Step Checkout you can place Terms & Conditions right on one checkout page, so your customers can learn Terms & Conditions in nice in-page popup window easily by staying on same page during checkout.
You can select a style for the checkout page to fit with the theme of your Magento store.
One Step Checkout module for Magento allows you to select a style for the checkout (one step) page to fit with the theme of your Magento store. Extension contain several predefined checkout themes, which you can selected and customize according your needs. Additionally you are able to select checkout page layout, which can be based on 2 or 3 columns layout.
Best checkout user experience across all type of devices.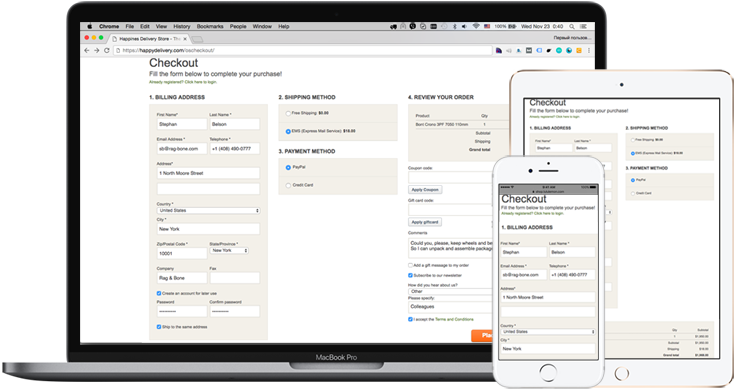 Magento One Step Checkout interface is fully responsive — it's adaptable for computers, laptops, tablets and mobiles screens, so customers will find it very easy to navigate and completed checkout regardless of the type of device they are using. This is important, as more than half of all online sales occur on a mobile and tablet.
Reviews
«It is awesome extension which definitely worth each cent's we spend on it. It convert checkout in just one easy step – which you can customize from extension settings page. Must have for every magento store.»


— Dan Pirl, Magento Connect
«For now it is early to say about superb result after moving from standard checkout to one step checkout, but it works flawlessly. It looks really great solution, I see good response from my customers in decreasing bounces on checkout phase - more and more customers finish their checkout.»


— David Stivens, Magento Connect
General Questions

Full range of payment methods are supported. The most common ways to proceed payments are PayPal or Credit Card. You can pay for our magento extensions in any convenient for you way. Security and fraud protection are guaranteed.

You can find full end-user license agreement by following link: /products/IKS-LICENSE.txt

Our license allows you to use a single extension license on one Magento installation. Extension is installation related, not domain related. Under one extension license you can run one extension per Magento installation. If your one instance of Magento installation runs several domains, you can use one extension license. If you run each website on a new installation of Magento, you need purchase separate license for each of them.

You can check our detailed installation instruction

Yes, you can install any Iksanika extension on a test or staging site and configure all the settings there before doing it on your live store. The only requirements is, that it is test/staging site of the same production magento site.

Yes, you can. Iksanika provides a 15-days money back guarantee. No risks for you.

Product Related Questions

Yes, our One Step Checkout magento module is responsive. Amount of sales online on tablets and mobile is still growing. We understand importance that we should work with customers on any devices, as result extension support responsive design.

Yes, this module supports standard PayPal, PayPal Payments Pro, as well as SagePay, Braintree, and more than 50 others payments methods. It supports all popular payment methods around the world.

Yes, you can customize extension design via CSS, which is part of the extension. It allows you to change appearance of the checkout page and adjust it to theme which you use in your Magento store.

Our One Step Checkout extension follow full code structure with all internal layout markers of standard Magento checkout. It mean, that if other module follow Magento development standards, then it will automatically work with our One Step Checkout extension.