Start save up to 95% of your time on products stock inventory management in your Magento store today!
Simple inventory management enhance standard magento products manager with in-grid editor
of stock fields and one page bulk/mass update feature.
Stock Inventory Manager is a comprehensive tool to help you easily edit the Quantity and Is In-Stock status of specific products, as well as perform bulk updates, through in-grid editable fields. You can filter products by given product attributes and make quick stock inventory changes right in the Stock Inventory Manager Grid as in Excel and proceed with a bulk update of selected products in one click by clicking the «Save Changes» button.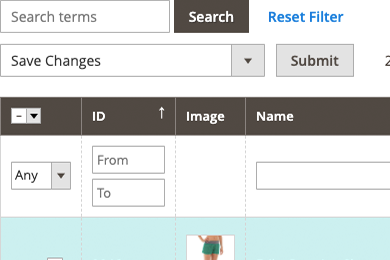 Update Stock in One Click
Just make all necessary changes in the product grid and press «Save Changes»! This extension will grab all changes in the product grid and save them in one call.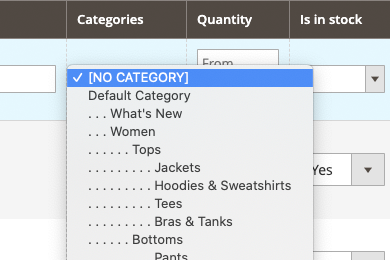 Filter Products by Categories
Stock Inventory Manager Grid is enhanced with category filtering features to make the process of product selection faster and easier.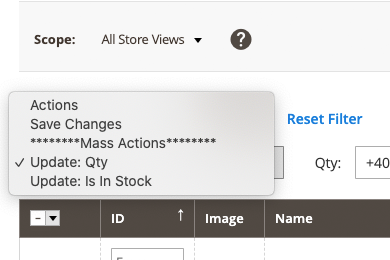 Mass Actions
Stock Inventory Manager extension for Magento allows you to apply the same values for a list of products. You need just select required products, after select the required action to update Qty or 'Is in Stock', then specify value and click Apply. The extension will update all selected products with the same values. For Qty you can use Absolute and Relative values in the product grid and in mass actions as well.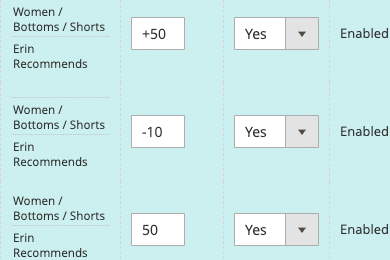 Relative and Absolute Values
Stock Inventory Manager Grid support absolute and relative values for Quantity products attribute — it allows you instead of spending time on recalculating current stock inventory with new inventory for selected products, simply use commands +/-/* to update current quantity with new inventory.
For example, right now you have 5 items in the stock of a selected product and you receive new products items into stock in the amount of 55, as result, you can just put +55 into the editable Quantity field and Stock Inventory Manager will automatically recalculate and save 60 as a final result.
The extension also supports a list of third-parties Multi-Location quantity extensions and allows you to select product quantity related to the selected store and to proceed with the bulk update.
It's never been easier to make mass products stock inventory updates in your Magento 2 store at the current time on a single page through in-grid editable Quantity (including Multi-Location Quantity) and «Is In Stock». Let's try it now!
General Questions

Full range of payment methods are supported. The most common ways to proceed payments are PayPal or Credit Card. You can pay for our magento extensions in any convenient for you way. Security and fraud protection are guaranteed.

You can find full end-user license agreement by following link: /products/IKS-LICENSE.txt

Our license allows you to use a single extension license on one Magento installation. Extension is installation related, not domain related. Under one extension license you can run one extension per Magento installation. If your one instance of Magento installation runs several domains, you can use one extension license. If you run each website on a new installation of Magento, you need purchase separate license for each of them.

You can check our detailed installation instruction

Yes, you can install any Iksanika extension on a test or staging site and configure all the settings there before doing it on your live store. The only requirements is, that it is test/staging site of the same production magento site.

Yes, you can. Iksanika provides a 15-days money back guarantee. No risks for you.